Termine und News
2. Unser Russland Treffen 2023
findet vom 17. bis 19. November
im Hotel Kalikutt statt
Videos & Bilder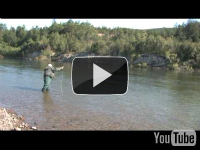 Reiseberichte

Superlative Salmon Fishing in the Far East of Russia
At Ekaterina Lodge since 1994!
For already 29 years we are being running the Ekaterina Lodge, which is situated in the Far East of Russia. During the whole fishing season, we are taking care of our guests personally.
the Lodge
The lodge consists of 8 solid wood houses for 2 persons every. Every house is fully equipped with electricity and heating system. Cozy Restaurant with fireplace and sweet sauna within swimming pool provide atmosphere.
The Ekaterina Lodge is located in the forest at river "Kuchtui".
Our guests enjoy the exclusive use of the river around the Lodge.
Due to a very quite location and private usage, undisturbed fishing experience is guaranteed.

the fishes and the river
The river Kuchtui is 200 kilometers long and 30-100 meters wide.
As the river runs in a large gravel, it is good for wading and as a follow for flying fishing.
For spawning salmon fishes entry the small tributaries and the main river.
The woody landscape around the river is surrounded by small mountains.
There are all Pacific salmon species coming up the Kuchtui river, besides king salmon. Silver salmon weights up to 12 kg. It is known to be a very strong fighter. Followed by chum salmon (up to 12 kg) and pink salmon (up to 4 kg), which are also a big challenge for fishermen.
The "Dolly Varden" reaches a size up to 90 cm and provides excellent fights also. Other species such as arctic char, Kundcha and bigger than 50 cm graylings make the fishing adventure very diversified and exiting.
the tours and the itinerary
The fishing season at Ekaterina Lodge includes 4 tours and lasts from the begin of August to the middel of September . Each tour includes 9 full days of fishing. The duration of Lodge inhabitation can also be arranged individually.
In order to enable a familiar and comfortable fishing experience,
we do not take more than 16 guests for each tour.
we pay high attention,
... on our guests feel comfortable at our place and have unforgetable fishing adventure to take home. Providing good feelings and experiences to our customers as a reason to return is our device
We have being expanding our regular customers for years. Some of them visit Ekaterina Lodge almost every year. Please find some voices of our regular costumers below.